Vanier scholar seeks new ways to measure fetal heartbeats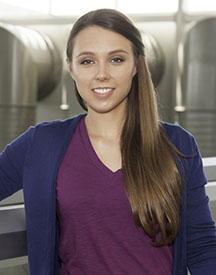 Everybody knows that a cocktail party can be loud. With multiple conversations and music, it can be hard to hear what people are saying to you. Fortunately, the human brain is capable of filtering out excess noise through concentration.
The same can't be said for machines. The "cocktail party problem" can take place when electrocardiograms (ECGs) measure the electrical signals of a fetal heartbeat. The power of the mother's heart and other electrical noises within her body can distort the heart waves of a fetus, which makes it difficult to record a fetal ECG and may lead doctors to order unnecessary Caesarean section deliveries.
Kathryn Marcynuk, a PhD student in Electrical and Computer Engineering at the University of Manitoba and 2014 Vanier Canada Graduate Scholar, is trying to resolve this problem by improving Independent Component Analysis (ICA). This technique statistically measures heart signals in ECGs. It isn't easy to isolate these signals in a mother and her fetus, though.
"I find it very exciting to take a complex, noisy system and extract the important or useful information that is embedded within the noise," she says. "Maternal-fetal ECG signals are particularly rewarding to work with because they have the potential to provide very valuable information in a non-invasive way."
By comparing ECG data recorded in actual clinical trials and synthetic heart models, Kathryn will see if ICA can clearly isolate the electric heartbeat signal of a fetus from the mother's heartbeat. She will then try to verify whether the fetus has a healthy or poor heart signal based on statistical measurements.
Kathryn's doctoral work continues the research efforts of her Master's degree, which she obtained in Computer Engineering at the University of Manitoba (2014). She also received a B.Sc. from the same faculty in 2012. She has been a panel member and tour guide for Women in Engineering outreach events at the University of Manitoba, and a recipient of the Grettir Eggertson Memorial Scholarship in 2011 for high standing in the Faculty of Engineering.
Kathryn is grateful for the support that the Vanier scholarship offers. "The Vanier Canada Graduate scholarship has been instrumental in allowing me to focus on my research and studies without worrying about applying for funding or looking for other financial support," she says. "The scholarship has also helped me to meet new people and make new connections for collaboration."
She also has some advice for other students who plan to apply for funding, especially if they're interested in the Vanier scholarships. "I recommend starting the application early and treating each section as equally important," she notes. "The process itself can be rewarding, as it is an opportunity for reflection and to clarify your research goals."
Date modified: