Vanier Scholar Sheds Light on the Role of Leptin in the Regulation of Glucose Production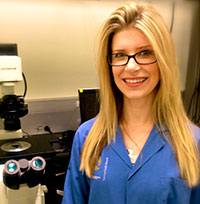 Vanier Scholar Brittany Rasmussen at the University of Toronto has shed light on the role of the hormone leptin in the regulation of glucose production and revealed a new avenue for controlling high blood sugar in diabetes.
Leptin is known to regulate glucose production and food intake. The hormone is produced in fat tissue and the stomach and acts through receptors in the brain and the jejunum, a part of the small intestine. Brittany's research sought to understand exactly how leptin acts in the jejunum in a study that involved infusing the hormone into the jejunum of healthy and diabetic rats and in rats that had undergone gastric bypass surgery, a common procedure for treating obesity that produces an anti-diabetic effect. In all cases, the study found that jejunal leptin lowered glucose production, and it did so through a phosphatinidylinositol 3-kinase (PI3K)-dependent signalling pathway.
By revealing leptin's mechanism of action, Brittany's work has uncovered a new target for therapeutic strategies for controlling glucose level in diabetes. Her findings were published in the journal Cell Metabolism in January 2014.
Brittany is carrying out her PhD research in the laboratory of Dr. Tony Lam. Her lab dissects intestinal signaling mechanisms and their contribution in the regulation of glucose production in normal and diabetic states. "In my four years as a PhD student in Dr. Lam's lab, we have uncovered many different signaling targets in the intestine that may serve as therapeutic targets to lower blood glucose levels in diabetes," says Brittany. "However, much work still remains to uncover the exact mechanisms in the intestine that regulate glucose production."
Brittany knows firsthand the struggle that individuals with diabetes go through on a daily basis. Her father suffers from type 2 diabetes. This gives added meaning to her work. "By conducting diabetes research, I can only hope to advance this area of research to help discover new therapeutic strategies to lower blood glucose levels and help improve the lives of diabetic individuals. The Vanier Scholarship has given me the opportunity to further pursue and advance my research."
"By conducting diabetes research, I can only hope to advance this area of research to help discover new therapeutic strategies to lower blood glucose levels and help improve the lives of diabetic individuals."
— Vanier Scholar Brittany Rasmussen, University of Toronto
Date modified: